I first learned embroidery because I wanted to make cute plushies and sleeping-masks-with-cat-eyes-on-them, like
Aimee Ray
. I used the stitch diagrams from her book,
Doodle Stitching
, but I could've found instructions online, if I hadn't preferred the convenience of the pages sitting in my lap.
Visual Dictionary
of them. Each stitch is thoroughly explained in photographic detail. I dunno about you, but I find photographs and illustrations the easiest way to learn new handicrafts. And all her photographs are pretty, too, like the ones above.
As I was learning the stitches, I created a cute sampler. (Finishing a handy reference piece is so much more satisfying than random stitches.) If you'd like to start one also, I recommend
this free pattern
by Molly from Wild Olive (she has a bunch of other cute, simple patterns, too). Appreciate the non-quite-subliminal message? I do. I need it badly (miss-a-thousand-ideas-at-once woman here).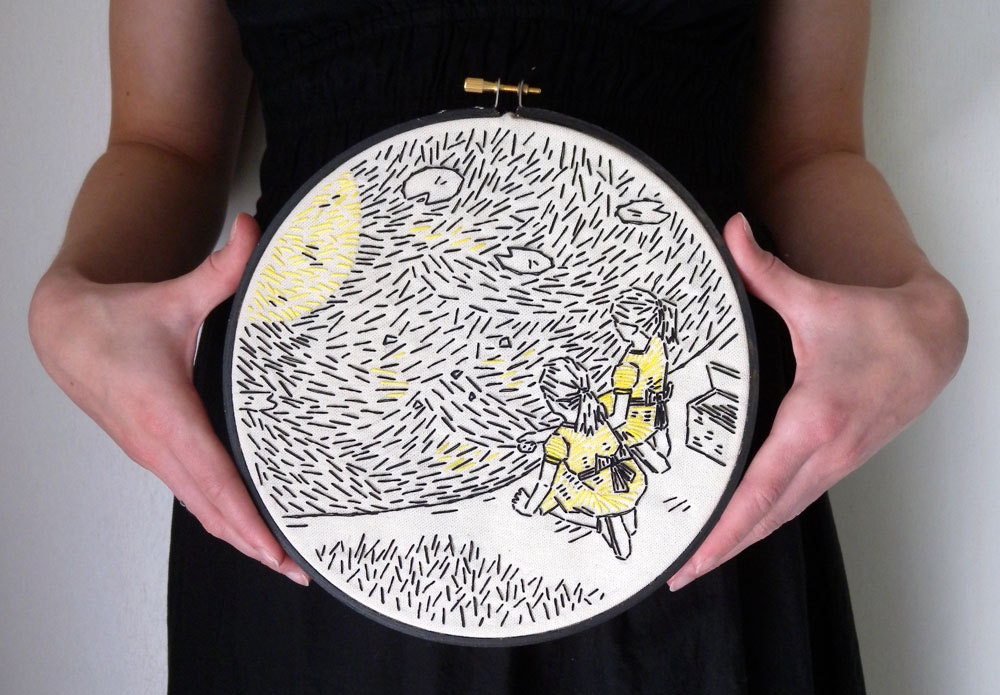 Before long, you'll be stitching like Megan, of Studio MME. Her beautiful pattern,
"Feeding the Moon"
(shown above), only costs six dollars. I love it so much! Below, is Flapperdoodle's pair of cute patterns,
"Elsie and Ramona Play Telephone,"
which costs five for the set.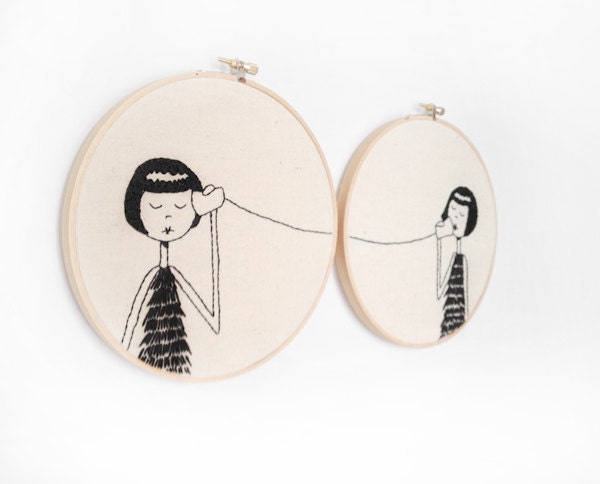 Corrine of September House charges three dollars to download her patterns. The one below is from a set called
"Stitches Del Sol."
Nomnomn--oh, these are felt. Aimee Ray's plushies are so dang cute. (See? Totally worth learning embroidery for.) Both of the sets above are available through her Etsy shop. See the
sweets here
, and the
produce here
. Sadly, her magical creatures aren't currently available as patterns, but inspiration nevertheless. :)
Shelly has a number of cute plushie doll and animal patterns for sale in her Etsy Shop,
Gingermelon
. The one above costs twelve-and-a-half bucks. She also runs a
blog
, where occasionally she posts patterns for free download.
This floppy-eared rabbit with top hat pattern from
Patchlins
, is ten dollars. It looks sad. I want to give it to a kid to cuddle. :)
Aren't all of these the prettiest?
LOVE: Kait